People often wonder at the magic which must have accompanied the recording of a major hit record in the 1960's. In reality, the process was often rather prosaic and unmemorable. Larry and other members of the Wrecking Crew were constantly booked in sessions. Sometimes they never even met the artist or band, but simply worked with the producer. There was no way to know whether a recording would be a hit or even get released. While there certainly were memorable sessions, much of it was simply another day at work, no more memorable than any workday for the rest of us. Thus, we cannot rely on the musicians themselves to obtain this information.
Due to the nature of the Hollywood recording business in the 1960's, recording credits went largely undocumented other than what appears on musician's union contracts. Union contracts have been the primary means of assembling most of the recording credits noted on modern re-releases of these recordings. Others have devoted their energies to this research, and we make no attempt to reproduce the effort here. Instead, we provide just a taste of the many recordings which Larry played on.
This list is by no means complete, especially in the 1960's period, but it still provides an eye-opening glimpse into the incredible range of Larry's musicianship.
Data for Larry Knechtel's Discogrpahy was generously provided by "Musician's Guide at Milarus Mansion"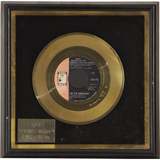 Larry's Gold

Read about just a few of the Gold and Platinum records Larry worked on during his storied career.